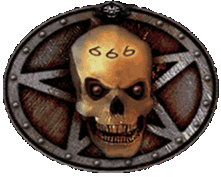 Welcome to the internet's largest collection of Horror and Halloween web resources. On this site you will find 4000+ chilling animated graphics, hundreds of creepy backgrounds, ghoulish lines/dividers, terrifying sounds, and eerie music, all availiable for free download and categorically organized for your browsing pleasure and haunted web building experience.

Updated in 2021 with hundreds of new additions, the Horror Gif Necronomicon is the website to visit during this Halloween!
Link to Us:
Links section coming soon!!